Bangabandhu International Conference Center (BICC) is the only multi-purpose convention facility in the country, having 17 (seventeen) venues for holding small to large scale events, i.e, state functions, social events, seminars, conferences, product launches, annual general meetings, fairs, exhibitions, cultural programs, reality shows, etc. BICC has been the venue for many renowned economic, social and cultural events. It has proudly hosted a number of international conferences and summits.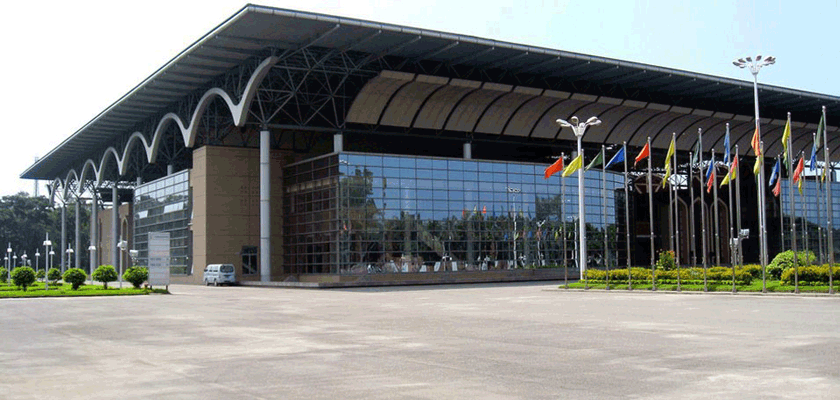 Bangabandhu International Conference Center (BICC)
Major Venue & Services
Milky Way
The 'Milky Way' with its large open space and ground terrace is ideal to hold large conventions, fairs, expo, etc. Convention or exhibition, anything that involves a huge number of visitors, can be adequately accommodated in this large open space. The big space with a natural inflow of air and easy elevation to the Celebrity by escalator makes it the perfect setting for any kind of public event.
Hall Of Fame
From State programs to music concerts, BICC Hall of Fame is ideal to host large scale events. A circular dome with dazzling lighting and seating arrangement reminds a gala concert in a broad way theatre. The spacious Hall of Fame lobby portrays the beauty of a 21st century auditorium of Bangladesh.
---
---
Carnival & Harmony
The versatile 'Carnival' & 'Harmony' consist of two identical halls. 450 people in theatre style or 350 people in round table style can be accommodated for a conference or seminar in both the halls. It can also complement as the auxiliary venues to Milky Way to hold big fair, expo or convention. Any sort of dinner function is possible at this posh venue.
Celebrity
The 'Celebrity' is the epicenter, a unique and purpose built architecture. The superb and spacious Celebrity has the world class amenities. This grand hall with its beautiful chandelier is suitable for dinners, parties, seminars, corporate get-togethers or any grand occasion. A complete kitchen facility is also available.
Legendary, Eternity, Elegant & Milestone
In business you never get what you deserve; you get what you negotiate for. Negotiation requires cool nerve and the BICC 'Legendary, Eternity, Milestone & Elegant' give you that fresh and soothing feeling of a place where you can rediscover the strength of your mind. We have created an ambiance in all 4 meeting rooms i.e. Legendary, Eternity, Milestone and Elegant that makes your mind speak.
Media Bazaar & Windy Town
The amenities of international standard media meetings with all significant facilities are available on both the venues. Bright lighting with sound facilities and special podium will elevate your media meet to a new height. It can also be used for small parties, get-togethers, cocktails etc.
Green View & Executive Lounge
The BICC Green View & Executive Lounge room has a capacity of accommodating around 120 people for meetings, business discussions, get-togethers etc. The green environment on the way to Green View & Executive Lounge touches the heart with
freshness. It is ideal to cater for VIP guests, business executives etc.